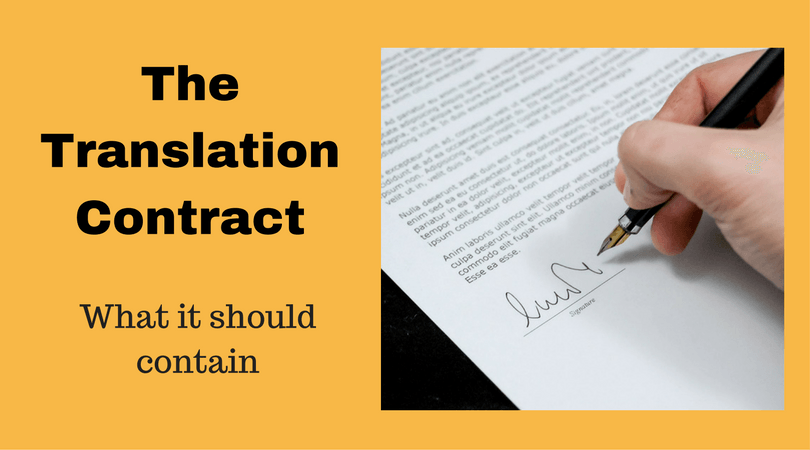 What Should Be Included in a Translation Contract
If you choose to work with an individual translator for your books (instead of using a platform like Babelcube, for instance), you will need to set up a basic contract to make sure all parties are clear about their rights and responsibilities. I'm not a lawyer, and the following is not legal advice, only suggestions based on my own experiences. Here are three important components that shouldn't be missing from a translation contract:
1) The scope of the work
This one might seem pretty obvious, but in addition to the novel itself, there may be the book description, promotional materials and author bio to be translated. This should all be included in the contract.
Set a deadline for the delivery of the translation and specify the format in which you want to receive it – usually this will be a Word doc, but some translators may offer packages that include formatting (as there are special requirements for print formatting in German).
In addition, you may add a cancellation agreement in case one party doesn't fulfill their responsibilities in time.
2) The compensation
Many German translators calculate prices based on normalized pages. According to the VG Wort a 'standard page' contains 1500 characters (including spaces), but some translators use 1800 characters as a basis. You could also ask for a quote based on the word count in the source language.
German law grants translators (as the authors of the translation) the right to be 'adequately compensated', which includes royalties for the translated book – even if there has been a down payment. Of course, the percentage of these royalties can be negotiated with the translator.
In case of a purely royalty-split contract without any down payment, specify how high the royalties will be, how often they will be paid out (once or twice a year might be fine), if they will change over time or with the number of books sold, and if there is an end to the contract (Babelcube contracts run for 5 years, for instance). Most professional German literary translators will probably only enter such a deal in exceptional cases, since this is the work that pays their bills.
How will the translator be paid? This might be worth working out in advance, as international money transfers can be costly. Paypal may seem like the obvious, easy solution, but it has quite high fees for international transfers (> 4%). The same is true for wire transfers through your bank. The method I currently use and recommend because it's very easy and the fees are reasonable (~ 1%), is TransferWise. Opening an account with TransferWise is totally free and you can send money with your bank account or your credit card.
3) The rights
According to German law, the translator holds the copyright to the translated work. This is an inalienable right and cannot be transferred. However, the translator can and should transfer the exploitation rights for the translated book to you as the author; otherwise you won't be able to publish it. Once you have secured these rights, you can treat the translation the same way you would treat your English books to which you hold the copyright. All you need to consider is that the translator should be notified of any changes made to the translation. In addition, the translator has the right to have his name mentioned as the author of the translation (such as in the imprint or front matter).
You may also want to think about other rights, such as what happens if you decide to produce an audiobook of your foreign language edition, or if it were to be adapted for a movie (you never know). In this case, how would the translator be included in the compensation? For example, if you enter into a royalty-split deal with a narrator on ACX, the profits of the audiobook sales may be split between author and translator, and narrator – if you have a royalty-split deal for your translation.
Rights are a complex issue and I'll refer you to more knowledgeable people on that topic (see for example Joanna Penn's recent interview with attorney Kathryn Goldman).
For more information and advice about the translation process, refer to this article and this book. Let me know if you have any questions or if I forgot to mention anything important…