1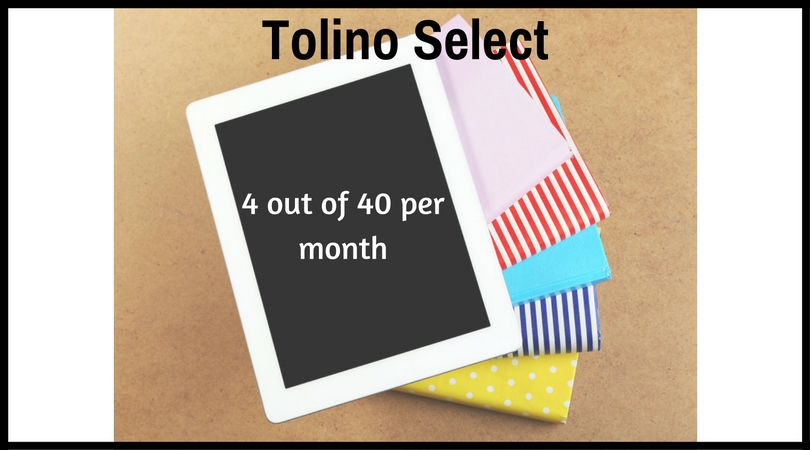 Tolino Select – New Ebook Subscription Service by Tolino: 4 out of 40
The Tolino Alliance, Germany's biggest Amazon competitor (with about 50% of the book market share) has just announced the release of their new ebook subscription service: Tolino Select.
Most indie authors know about KDP Select: When you enroll your ebook there, you enter it into Amazon's ebook subscription model Kindle Unlimited. In exchange, you pledge exclusivity to Amazon for at least 90 days.
Not so for Tolino Select. Here, the term "Select" doesn't refer to exclusivity, but to editorial selection. Each month, Tolino Media selects 40 new ebooks in 4 different genres (10 per category):
Mystery & Thriller
General Fiction
Fantasy & SciFi
Romance & Erotica
From this selection, subscribers can borrow 4 books each month for a fee of 9.90 Euro (i.e. 2.50 Euro per book). Unused credits expire at the end of the month, but once downloaded, ebooks can be read until the subscription is cancelled.
Tolino aims to offer readers a curated choice of books (both indie and traditionally published), so they don't have to spend hours searching for high quality content. They are seem to be targeting a group of readers who read regularly but are flexible in their choice of reading material and don't have much time for browsing. Voracious readers, occasional readers, or readers with specific book preferences probably won't be very tempted by Tolino Select.
Is Tolino Select for Indie Authors?
Indie authors are welcome to submit their books to the Tolino Select team. Simply contact them by mail or through this online form. To have a chance, your book needs to fulfill certain requirements:
No anthologies, only complete works
Books of at least 150 pages
Needs to cost at least 2.99 Euro for the duration of the enrollment
Must be available (published) at least 2 weeks before the start of enrollment
Must be distributed via Tolino Media
What's in it for you?
If your book is chosen to be featured in Tolino Select you will receive 0.25 Euro per borrow (for prices below 4.99 Euro) or 0.50 Euro (for prices above 4.99 Euro). But ONLY if the book has been published less than 12 months ago. Older titles don't receive any payout (but can also be submitted, of course).
If selected, your book is going to be featured next to traditionally published books, which means higher visibility. In addition, each borrow will be counted as a sale, so your book can rise in the sales charts. For first books in a series, this might work well to drive sales to the other books.
Conclusion: Since Tolino Select requires no exclusivity, it cannot hurt to try it—if your ebook is already enrolled in Tolino Media (directly or via a distributor). If your book, on the other hand, is going very well in KU, you may not want to take it out, as the financial return for Tolino Select will likely be lower.