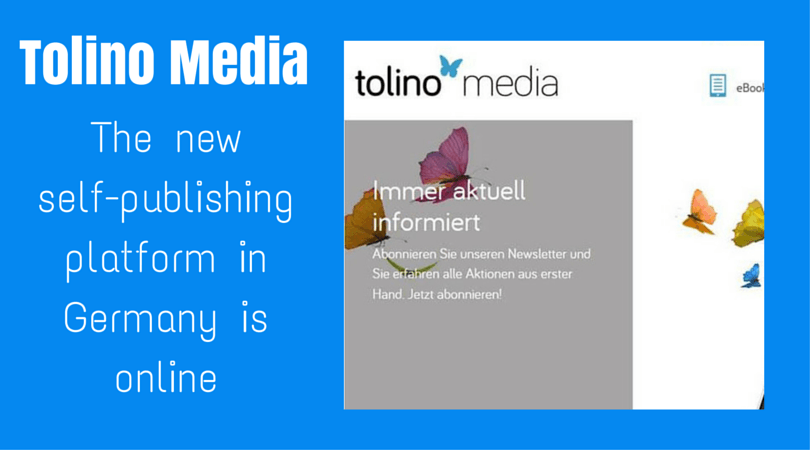 Tolino Media – the New Selfpublishing Platform in Germany
Good news for indie authors in Germany: The new selfpublishing platform of the Tolino Alliance is now up and running.
The Tolino Alliance is an alliance of German book stores like Thalia, Weltbild, Hugendubel, Club Bertelsmann and Libri. They share an ebook platform and sell their own e-readers and tablets in competition to Amazon's Kindle. With 45% market share, Tolino even surpassed Amazon in 2014.
Until recently, indie authors could only get their books into the Tolino stores via distributors like neobooks, Draft2Digital, etc. But in April 2015, Tolino media launched as a platform for selfpublished authors to upload and sell their books directly in the Tolino stores.
Tolino media works similar to Amazon's KDP, Kobo Writing Life, and other direct publishing platforms with good conditions:
No upfront costs, free ISBN
70% of net sales revenue (until January 31 2016), independent of price
No exclusivity
Upload of Word or ePub files
Book appears in all Tolino Alliance online stores
Discount deals and other marketing possibilities
Possibility of getting your book into the physical book stores
Sales numbers updated daily
At this time, only authors from EU countries can use Tolino media
Problems at this time: Visibility in the stores
One great flaw at this time is the categorization of the uploaded books in the Tolino book stores. Each of their websites is sorted differently and you don't have the same level of control over the category your book will be put in as you do on Amazon, for instance.
According to a first trial run by M. Matting of Selfpublisherbibel.de, several of the online book stores have even established a new, separate category, "Selfpublishing", which can only broaden the rift between traditionally published and self-published books. In other stores, the book doesn't seem to show up anywhere except by direct search. But at least customers who use Tolino E-readers instead of Kindles have the choice to buy your book on any of these stores. Maybe these issues will be resolved in the next months to really make this a good alternative to distributors and complement to KDP.