2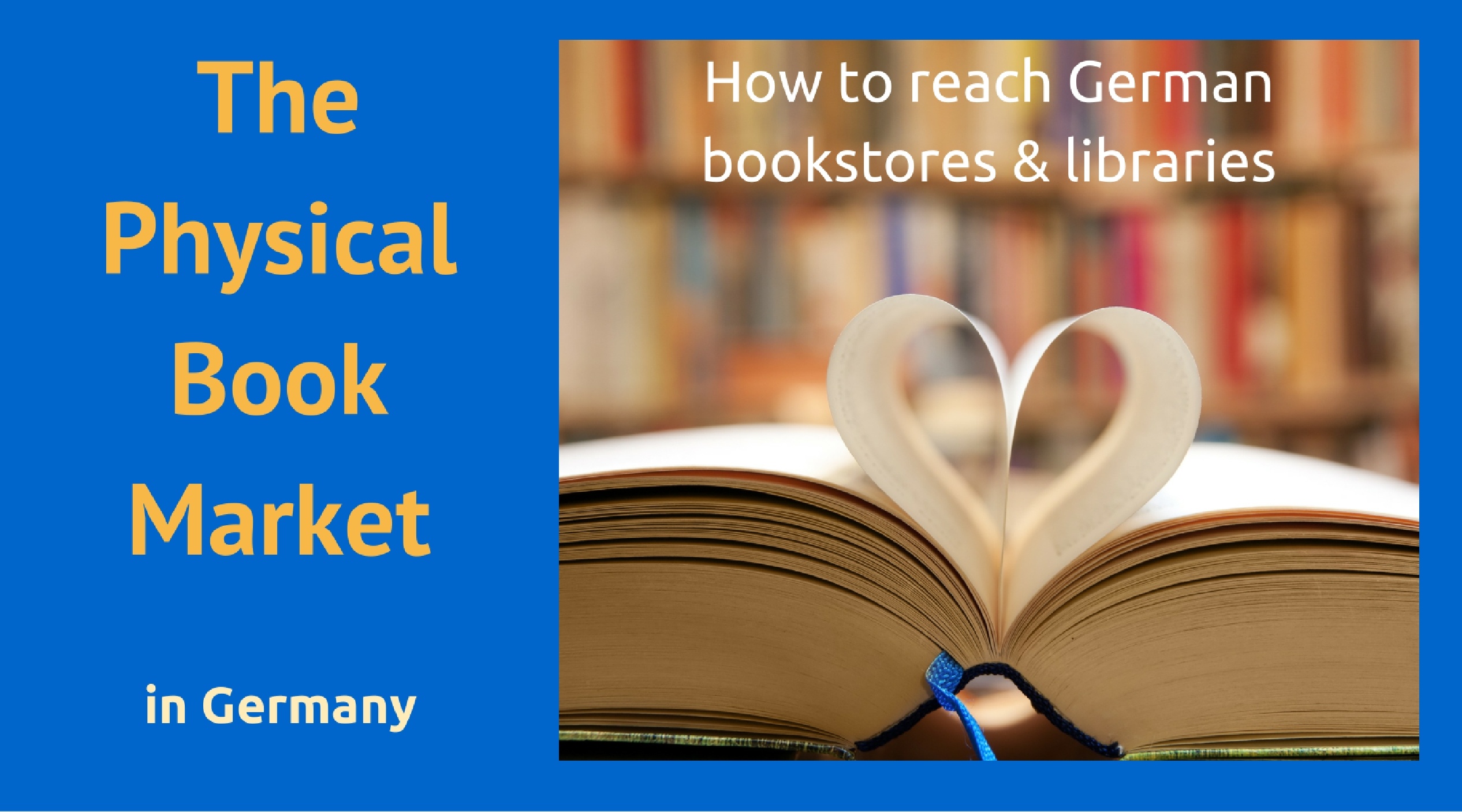 The Physical Book Market in Germany – How to Reach German Bookstores and Libraries
Most independent authors focus on ebooks first, especially when they branch out to translations and publishing in foreign countries. But thanks to Print on Demand services, creating print books has become easy and affordable as well. A while ago, I received a question from an author about how to address the market for physical books in Germany and whether it's worth it or not. So I want to give you an introduction to the physical book market in Germany and which services you can use to make your print book available to bookstores (and libraries).
Many German readers still like to hold a physical book in their hands. Despite the rise of the ebook, the physical book market in Germany has remained pretty stable during the past five years, in part perhaps due to the fixed price law. Physical bookstores in Germany still make up the lion's share (48%) of the total sales volume for print books, while online bookstores sell only 17% of the print books.
There are around 6,000 bookstores in Germany: large chains like Thalia, Weltbild, and Hugendubel (also members of the Tolino Alliance), but also a good number of independent bookstores. In addition, Germany has more than 14,000 libraries in the whole country, including those supported by universities and the federal government.
Many bookstores are not opposed to ordering books from selfpublishers if asked to do so by customers. Some authors have even made contracts with local bookstores to stock their books. But if you want to reach bookstores, your book needs to be available for them. For this, it's important to know that most bookstores order books from wholesalers (in German: Barsortiment). The three big ones in Germany are Libri, KNV, and Umbreit.
The majority of bookstore owners will only be interested in ordering and selling your book, if it's available through a wholesaler, or at least listed in the VLB (Verzeichnis lieferbarer Bücher – a catalog of all books that have ever been published). Some are also willing to order books directly from the author. But one thing you can be sure of that most of them won't order from Amazon.

So, how do selfpublishers get their books listed with these wholesalers? You can do it by printing your own books and contracting with the wholesaler directly. However, they usually only work with publishers who have several books in their catalog, so authors might have to form a publishing company. The second way is by choosing a Print on Demand service that already has a contract with a wholesaler.
If you produce and distribute your print book through CreateSpace, your chance of bookstores ordering your book is very low because it's an Amazon company and doesn't have connections to German wholesalers. An alternative for English books is Ingram's Lightning Source – they distribute your print book to wholesalers, retailers and libraries worldwide – but not in Germany (so far).
So which Print on Demand services in Germany can you use to get your book into wholesalers? Below, I listed the most important ones and compared their conditions:
*for a 300 page b/w paperback, format: 12x19cm, at a retail price of 9.99€ (the typical price for a paperback in Germany). For tredition, 9.99€ is too low to generate a margin for the author.
Books on Demand (BoD) are partners of Libri, one of the wholesalers in Germany. If you create your book through BoD, it will be available for German bookstores and libraries to order, but you have to agree to exclusivity, so you can't have your book in CreateSpace at the same time. The duration of the contract is one year. BoD also sells your book directly on Amazon, though some authors have complained of long delivery times (up to 4 weeks).
ePubli is an ebook aggregator that also expanded into print book distribution. They are connected to the wholesaler KNV. At the moment, they only sell books on Amazon through Amazon Marketplace. Thus, the customer has to pay for the shipping. Epubli also requires exclusivity.
Tredition delivers to all major wholesalers and bookstores (online and physical as well as internationally). The books are available on Amazon directly (not through Marketplace). You can do a paperback and hardcover in one step, but your royalties are the lowest of all listed services. Although they don't require exclusivity, you pay a comparatively high fee for publishing your book. In addition, each time you want to change something in your manuscript or cover, you have to pay 49€.
With all of these services you retain the full copyright for your book.
BoD and tredition also offer marketing services for authors, some of which are included in the setup fee. For example, tredition will write a professional press release for each of the books they publish and distribute it to their media channels, share your book on Social Media and will send free review copies to journalists or bloggers, all inclusive in the publishing contract. BoD offers a "PR package" for 199€ and cooperates with regional bookstores to help you get your book in there for 9.90€ per month. (More information on the marketing services of BoD and tredition.)
So, which one do you choose? It's a hard decision as they all have their advantages and disadvantages. I've recently asked myself that question because I wanted my German book to be available on more sales channels than just Amazon, but I also didn't want to pull out of CreateSpace. So I chose tredition in the end – the only one without an exclusivity agreement, despite the lower royalties. I can report on my experiences with them later on if you're interested.
Lastly: Even if you select a Print on Demand service with connections to wholesalers, you will still need to convince bookstore owners that they should stock your book – if that's what you want. Most will not order a selfpublished book unless a customer asks for it. Approaching the really big chains is probably not useful for most indie authors as those chains buy books through a centralized purchasing system. Local independent bookstores (or libraries) are the best place to start. If you talk to them personally and present a professional appearance, many bookstore owners are happy to include new, local authors in their assortment.