3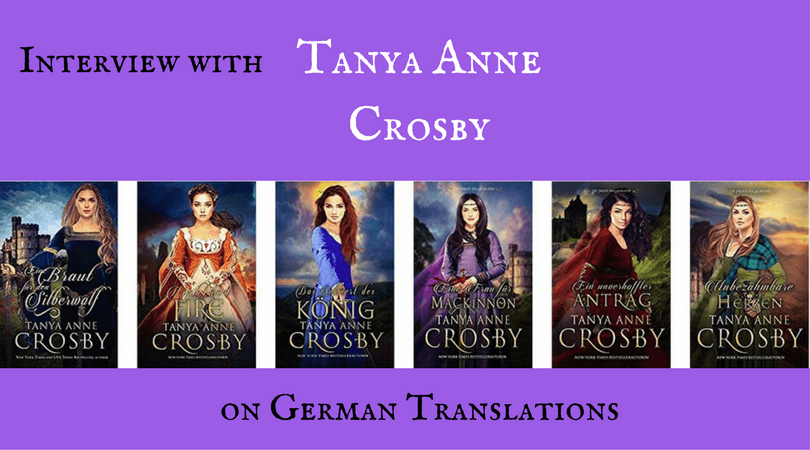 Tanya Anne Crosby on German Translations – Babelcube or Direct?
Tanya Anne Crosby is the New York Times and USA Today bestselling author of mainstream fiction, contemporary suspense and historical romances, such as the Scottish Highland Brides series. Tanya has published many of her books in German, some by working with individual translators directly and others through the translation platform Babelcube. In this interview, she kindly shares some of her experiences with German translations.
How many of your books have currently been translated and published in German?
Currently 20, but not all were done by me. I have at least three titles that were done by my publishers, Harlequin and Avon Books.
Since you write in different genres, which of these has been most successful in terms of reader interest in Germany?
I've found that my Scottish medievals have done best, but all my historicals have done well. I am frustrated to find that my contemporary suspense titles haven't so much caught on in Germany. Whether this is the cover, or something else, I can't quite determine.
You've worked with translators directly and through the online platform Babelcube. What are the advantages and disadvantages of both these options in your eyes? Would you recommend one over the other?
If possible—and I realize it's not always possible—it's better to go direct, mainly because you have more control over distribution. However, this is less important for authors who might not have deeper connections with vendors and I've found that some books published through Babelcube have climbed higher on the lists than some of my direct titles. Babelcube must be doing something right. Additionally, Babelcube offers some safeguards for both the translator and the author. Plus, if you have as many books as I do, it's an attractive option, because there is absolutely no way I could put forth the capital to translate thirty books in five languages. I currently have more than 100 titles published or in process of publishing in German, Dutch, Portuguese, French, Italian and Spanish. With a royalty share, it's much more possible. Of course, the downside for the author on Babelcube is that you don't get to benefit off the initial launch, and, you may end up paying more for the translation than you would have if you'd paid a translator directly. The royalties, at 35% (or less, after Babelcube's share) will earn both translator and author less than you would at 70%. The difference can be substantial. All that said, just as it's important for the author to do the legwork in vetting a translator, it's also important for the translator to do her homework in vetting the author. Translating for some authors will be more lucrative than for others. Clearly, the downside for the translator would be in translating for an author who doesn't sell very well, and then, it's a lot of work for little pay. After one year, however, I'm happy to say I have quite a few books that have already earned well enough to put my royalty share in the higher percentages. So for these books, I'll definitely end up paying more than I would have had I gone direct.
Are your German books in KDP Select or available on all platforms, and why?
For a while I had my German books in Select (one series), but I'm not a fan of exclusivity and believe it's important to support all the vendors in order to keep a healthy marketplace.
What has been the most challenging aspect for you when dealing with foreign translations?
Marketing, hands down. I've been very fortunate in that many of my books have needed little marketing. My Italian books and my German books have had a very nice reception and my French books are picking up now. Portuguese translations have also done fairly well. Spanish has been a bit of a challenge and I've put further Dutch translations, or any other languages on hold for the time being.
Are you planning to have all of your novels translated into German? What about German audiobooks?
Yes. And yes. I've already begun this process, but this hasn't gone quite as smoothly as I'd hoped. The challenge here is mostly in distribution, but also in finding a translator who can do the book justice. It helps to have a strong support network, which I do. At this point, I have several translation teams for each language, translators I really trust.
What advice would you give a fellow author if they are interested in translating their work to German? Should they?
This is such a personal decision. Some books pay for themselves right away. Others take years, and it depends on your financial wellbeing. I do think these are early days in the German market so gaining a toe hold now, while the competition is less stiff, is a good thing. Also, do your homework. Authors, don't just accept the first translator you talk to. I know finding a good one isn't easy, but walk away if they don't make the grade. Give their samples to native speakers to get an initial impression, ask what else they have translated. Look at their reviews. Translators, don't choose a book because it sounds like you'd like to read it. Of course, as in writing, don't offer for a book you would hate to read, but when choosing books for translation, again, look at the authors books in their native market, read their reviews. Check out their covers. Are they professional? Of course, this is no guarantee the book will sell well in another language. A book that sells exceptionally in the U.S. might fall flat in another language, but at least you have a greater chance of success.
Thank you so much!