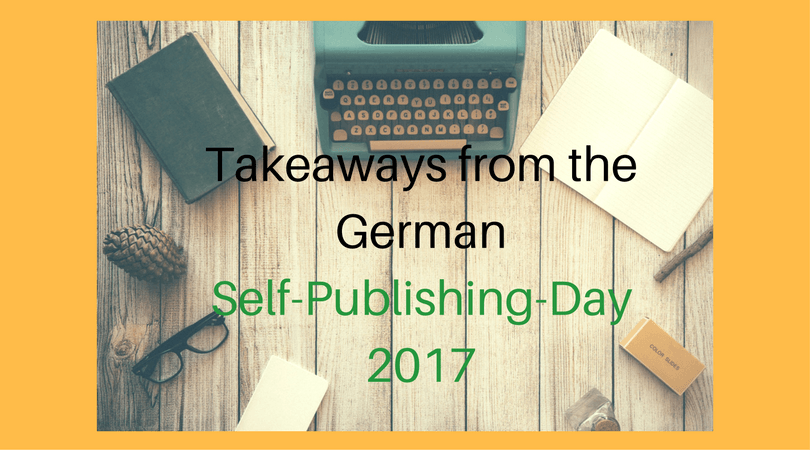 Takeaways from the German Self-Publishing-Day 2017
On June 10, I spent a day in Hamburg with around 200 German authors and publishing professionals to connect and learn about the newest developments in German selfpublishing, so I thought I'd share my takeaways with you. The variety of topics during that day reflected the maturation of the German selfpublishing scene. There was a workshop on mobile apps in the future of selfpublishing, a lecture on branding for authors as well as an interview with an agent, who has worked with independent authors. German publishing houses are definitely starting to pick up on the success of some indie authors and offering them deals.
Another important development: The German Selfpublishing Award has just been announced for 2017. All German indie authors can participate as long as the book has a German ISBN and is available on the major wholesalers. Apart from the price money of 10,000 Euro, plus 80,000 Euro worth in marketing, for the first time, the winner will not get a traditional publishing deal, but instead his or her independently published book will be made available and visible in the German book stores with the marketing power of its sponsors.
Ebook Market
Matthias Matting (Selfpublisherbibel.de) gave an overview of the ebook market in Germany. Though Amazon and Tolino have about 50% of the market share, each, the proportion of selfpublishers on Amazon is around 40%, on Thalia (one of the stores in the Tolino alliance) it's only around 20%. It is estimated that ca. 250 authors in Germany can live from their selfpublished books.
On the website ebook-preise.de you can find up-to-date numbers about the (German) ebook market. Here are some of the most interesting:
Daily revenue of Mystery ebooks on Amazon is around 30,000 Euro
Daily revenue of SciFi ebooks on Amazon is around 8,000 – 9,000 Euro
Daily revenue of Romance ebooks on Amazon is around 14,000 Euro
Daily revenue of Fantasy ebooks on Amazon is around 18,000 Euro
1 billion pages were read in May 2017 in KindleUnlimited worldwide
The #1 ebook title on de is sold about 2000 times daily
There are around 510,000 Kindle ebooks on Amazon.de right now
1 million new Kindle ebooks were published in the past 12 months globally
Around 25,000 new Kindle ebooks are published each month in Germany
Market share of selfpublished authors is about 3% of the total German book market
Mean revenue of a selfpublished author in Germany is 683 Euro per month
17,000 new German authors (including pen names) registered on Amazon.de in 2016
de pays out ca 1.1 million Euro to German KindleUnlimited authors each month
Revenue of German online book stores was 1,602 million Euro in 2015
Revenue of German physical book stores was 4,427 million Euro in 2015
Latest numbers on ebook-preise.de:
With half a million Kindle ebooks on Amazon.de (see above), is it still possible to enter into selfpublishing and be successful at it – now that the "golden days" are over? Matting say, yes – in fact, it's never been easier. There are more author services and distribution channels available than ever, and technical hurdles are greatly reduced. Readers are much more open to books from independent publishers and even bookstores are starting to warm to the idea (as this survey has shown).
Marketing
Lovelybooks
Tina Lurz of Lovelybooks.de, the biggest German reader platform (like Goodreads), announced that Lovelybooks is now offering their marketing services to indie authors as well. Selfpublished authors can now get an author profile (which was previously only possible if you had a publishing contract) and can book advertisement options like banner ads, newsletter placements and individual campaigns. I see this as another sign of the growing acceptance of independent publishing.
Price Promotions
Matting recommends that German authors should rely on three basic columns for their marketing: website, newsletter, and price promotions. Especially in the beginning, price promotions can be a useful tool to gain new readers. But the ultimate goal should always be to get those readers onto your newsletter (old news for most English-speaking authors by now).
To further develop that point, thriller author René Junge talked about KDP Free Promotions – when they are useful and when they aren't. Back in the days, when a free download was counted as a 'real' sale, it was easy to rise in the Amazon charts by using the 5 free days in KDP Select. Today, though, you need around 30 free downloads to count as 1 sale. Thus, 3,000 downloads (which is a good number for a 5 day free promo in Germany) are counted like 100 sales or 20 sales/day.
A free promotion works well if:
a) Your book is in a mainstream genre, doesn't have a great ranking at the moment (not in the Top100) but good reviews, and is part of a series.
b) You are a new author without a fanbase, this is your first book and you want to gain new readers for your newsletter so you can sell your second book to them (which should be published reasonably soon after).
A free promo might not be the best choice for your book if:
a) Your book is already selling well at a good ranking. Then, a free promo might kill your book because it drops out of the paid charts during the time it's free.
b) Your book has bad reviews (it may only accumulate more bad reviews unless you fix the underlying issue).
c) Your book is part of an extremely small niche market that just doesn't have as many readers to begin with.
It's been my personal experience that many German authors are still wary of free or price promotions. Their reasoning is that they don't want to give away their books for dumping prices because it devalues their work and habituates readers to expect cheap books. It was good to hear, during this conference, that this view is not held by everyone. As Matting pointed out in his talk, the readers who buy discount products are usually a different market segment than your 'ideal' readers, who aren't looking at the price, but the groups overlap a little bit. Thus, a free or price promotion can get you more visibility because bargain hunters, who download the book, will cause it to rise in ranking and this in turn leads to it being seen by more readers.
In conclusion, German indie authors are still behind the US selfpublishing scene by a couple of years, but they're picking up speed and discovering all the marketing methods that are already working so well for their American and UK colleagues. Still, there are some important differences in German selfpublishing, partly due to laws and regulations (such as the fixed book price law, which makes box sets a little harder to put together). More German authors can live from their independent publishing and acceptance is growing in the whole publishing scene.