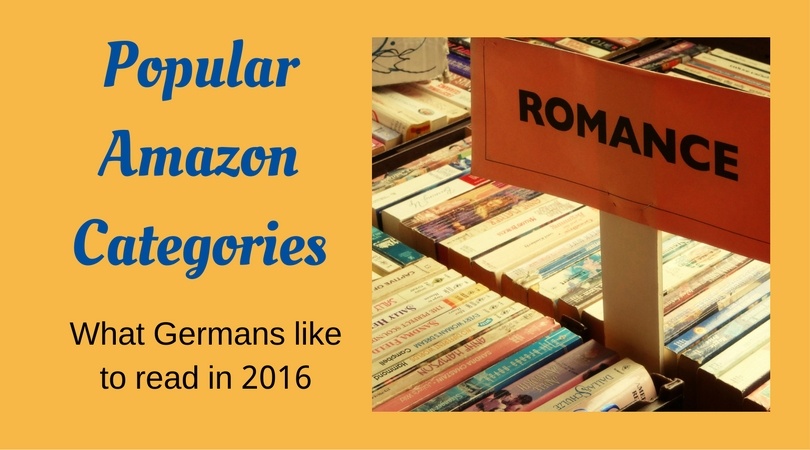 Popular Amazon Categories in 2016 – Or What Do Germans Like to Read?
I've recently updated my Amazon Category Cheat Sheet (that you can download by signing up here) to see if there were any changes since last year to the category system, and to get an overview for which genres sell well in 2016 in Germany. Whether you're just figuring out what to write or already have a book written, it's always a good idea to choose an Amazon category that isn't overcrowded, but still popular enough to move a nice amount of books.
So I went through the fiction categories on Amazon.de (sorry, no nonfiction) and looked at the Top 20 bestselling books in each category to determine the average selling potential and competition – i.e. the sales rank you need to reach to show up in the Top 20. If you want to know more about category rankings on Amazon, Kindlepreneur has a great article about that.
Naturally, the main fiction categories like Literature & Fiction or Romance are all highly competitive and you'll probably not be able to show up in their Top 20 unless you are a major bestseller. But just to give you some numbers (see the Figure below): Judging from the average gross sales revenue from these genres (which also depends on the price), Romance, and Literature & Fiction (which contains everything from Adventure to Religious Fiction and Genre Fiction) are at the top of the bestselling categories, followed by Mysteries & Thrillers, Science Fiction & Fantasy, Teen & Young Adult, and finally Children's books. Note that these numbers are merely estimates generated by the tool I used to determine this‑KDPSpy.
Amazon.de experimented with a lot of new (sub-)categories last year, similar to the ones you find on Amazon.com. This year, I saw some of them have disappeared already, while others have filled up with more books as authors and readers became aware of them. Following, I'll give you an overview of the most popular categories as well as those with the greatest potential of getting into the Top 20. For a more detailed look at all the different subcategories, you can have a look at the Cheat Sheet, as mentioned above.
Literature & Fiction
The major subcategories within Literature & Fiction are all pretty popular and competitive, especially Women's Fiction and Contemporary Fiction. But you'll have the best shot at ranking in the Top20 or at least the Top100 of Religious & Inspirational Fiction, Literary Fiction, and United States Fiction (whatever that really means‑I suppose Germans like to read stories set in the United States.)
The Superheroes subcategory within Action & Adventure is a largely unnoticed genre at the moment, easy to get into, but also selling low amounts. You'll have more luck with Fantasy Adventure stories or Mysteries/thrillers.
Historical Fiction is generally a popular genre, and among its subcategories, German Historical Fiction, Historical Fantasy, and Historical Mystery, Thrillers & Suspense have reasonably good earning potential as well as low competition. Historical mysteries with medieval settings are especially popular at the moment.
German Horror readers are most drawn to Dark Fantasy and Paranormal Horror, and apparently also like stories set in the United States. Since Horror subcategories are not as competitive as others (like Women's Fiction), you'll have a good chance of entering their Top 20.
For Genre Fiction, Westerns are surprisingly high up in popularity, considering that I've often heard they only sell well in the United States. The same goes for Western Romance, by the way. I think it shows that Germans do share an appreciation of the Old West, maybe because our culture has been 'inoculated' by the old Karl May stories and lots of adventure books of similar nature.
Medical and War stories also have a good-sized audience, as does Coming of Age (sort of like New Adult) and aren't too competitive. Sea Adventure, Sports, and Urban Fiction are more niche categories.
Literary Fiction still has some of the categories with the lowest sales potential and popularity such as Literary Women's Fiction and Literary Satire. But you probably already guessed that.
Romance
Within the Romance category, all subgenres are popular, of course, but you can expect a slightly lower competition in Lesbian, Military, Western, and Science Fiction Romance.
Scottish and Regency Historical Romance are currently very popular but with a resulting high competition. It's easier to rank highly in Victorian, Medieval, and 20th Century Historical Romance. Ancient World and Viking Historical Romance aren't quite as popular in terms of sales volume at the moment.
In Paranormal Romance, you can expect a high number of interested fans in the Vampire subgenre, and less so, but still a good amount, in Werwolves & Shifters. The rest of these subcategories are hardly frequented, except maybe for Angels.
Fantasy & Science Fiction
Fantasy as a main genre moves more books than Science Fiction. Among Fantasy readers, Epic, Urban, and Contemporary Fantasy are extremely popular. The rest of the categories are easier to rank in and still sell pretty well, such as Historical Fantasy, Sword & Magic, and Myths & Legends.
Science Fiction has an abundance of subcategories, but the most popular are Adventure, Dystopian, Post-Apocalyptic, and Space Opera. "Good" categories to rank in (with medium popularity, but lower completion) are currently Alternative History, Genetic Engineering, Time Travel, and Hard SciFi.
Mysteries & Thrillers
Germans do love a good mystery, whether Cozy or Hardboiled, and even Historical (as I mentioned above). They are all very popular, but the German Amazon store currently doesn't have many subgenres for this category. I'd say that Historical Mysteries is the most interesting genre of these since it's slightly less competitive, but popular.
The same goes for Historical Thrillers, as well as Military, Espionage, and Paranormal Thrillers, which sell a decent amount, but aren't overcrowded. Techno, Psychological, Political and Crime Thrillers on the other hand, have the highest sales potential and are the hardest to get into.
Kids & Teens (YA) Books
In Teen & Young Adult books, not surprisingly, Romance, and Fantasy & Science Fiction are very good sellers, as those are often populated with Harry Potter and Hunger Games-like bestsellers. And there aren't any subcategories among these big genres, either. A better chance for visibility is given within Historical YA Fiction, and Mystery & Thrillers.
Children's books, unless we're talking Harry Potter (which is kind of a crossover between Middle Grade and YA), or The Rabbit Who Wants to Fall Asleep, don't generally sell huge amounts as all children's authors are well aware of. Beside Fantasy and Bedtime Stories, Mystery & Detective stories are also well-liked by kids.
For more information on the sales potential, popularity, and competition of all fiction categories on Amazon.de, check out the Amazon Cheat Sheet.