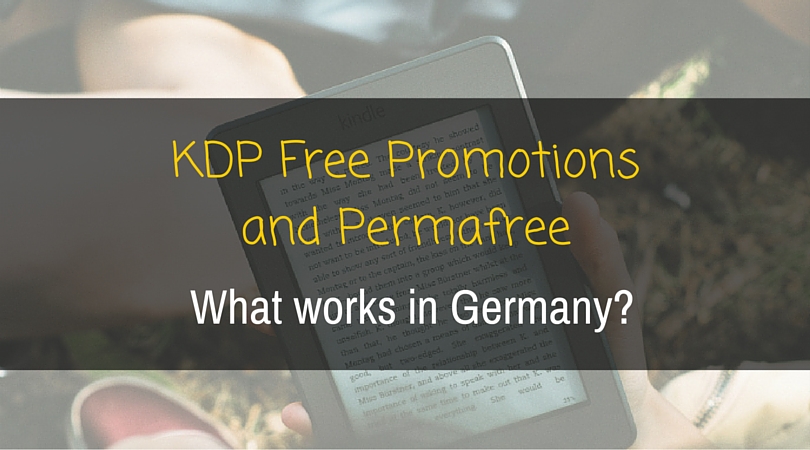 KDP Free Promotions and Permafree in Germany
Many authors who are having their books translated to German wonder if the marketing tactics they know from the English book market can be applied to Germany. Of course, the basics remain the same. But Amazon.de is a bit different from Amazon.com as is the German market and readership in general. So shared experiences can be useful.
In a previous post I talked about how we launched David VanDyke's translated Plague Wars series on the German market with 99 cent promotions and taking advantage of the Hot New Releases List on Amazon. As of today, there are 6 books in the series available in German. The quick publication schedule undoubtedly helped keep the sales going, as did placing all books in KDP Select one month after launch (KU borrows more than made up for the loss of potential sales on other platforms).
"KU borrows more than made up for the loss of potential sales on other platforms."
Of course, continued promotions are necessary to keep the book selling machine running. After trying several 99 cent promos, we took advantage of the 5 free days you get each enrollment period in KDP Select for Book1 and Book2 of the series and ran some ads on different promo sites (BestEbookFinder, xtme, Buchregen, and ebook-kaufen.com).
Over the course of the five days, Book1 was downloaded around 1500 times, Book2 around 1100. Book1 was catapulted to a rank of about #12 in the overall Free Kindle Store on Amazon.de. It ended up at the top of the general SciFi&Fantasy category as well. If you've run a KDP free promotion on Amazon.com before, you can compare the numbers above with your own to get an estimate on the size of the German free book market. Less free downloads are required to reach relatively high rankings in the German Amazon store and therefore better visibility. Maybe the German market is not yet as saturated with free books. As a result, free promotions appear to work better than 99 cent promos at this time in Germany, as the boost in ranking and visibility can outweigh the earnings during a 99 cents promo – that is, if you have more books in the series to sell (see Dave's interview).
"Free promotions appear to work better than 99 cent promos."
The original plan was always to make Book1 permafree as soon as more books in the series were released. So that's what we did – after trying the free promotions. Book1 went permafree (and therefore out of KU) on Feb 7 2016. We only promoted it on one site (Tolle Buchangebote), but it took off quite quickly, to our surprise. After only two days it already cracked the Top 10 of the Overall Free Charts, where it briefly hit #4. It was also featured on several websites that promote ebook deals without my doing, including xtme, lesen.net, and dealdoktor.de. This pushed all the other books in the series to rankings of 2000s and the top of their categories and led to more reviews.
"The permafree book hit #4 on the overall Free Kindle Charts after 2 days."
It's too early to tell the long-term effect of perfmafree. Downloads drop off naturally after the first few days (currently, after about three weeks, the book's sitting at around #150 in the Free Charts). But with continued promotions and new book releases, it should work as well as permafree with English books.