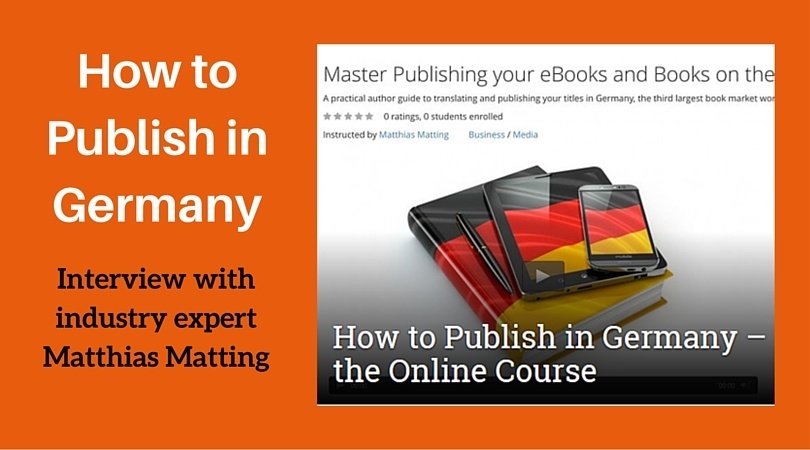 How to Publish in Germany – Interview with Matthias Matting
Today, I have an interview with Matthias Matting, German author and expert on self-publishing in Germany. He runs the website Selfpublisherbibel.de, which I've often mentioned on this blog as the go-to-website for German self-published authors. However, most of the info on this site is available in German only (naturally). Now, Matthias has started an English site specifically for English-speaking authors who would like to publish in Germany, but don't know the language. It's called How-to-publish-in-Germany.com
Matthias, when did you start your new website (How-to-publish-in-Germany.com) and what is its primary purpose?
I started the site in summer 2015. The idea is to offer a source of English language information on publishing in Germany. I was often thinking about translating some of my articles on Selfpublisherbibel.de but that's a better place now.
Which authors should consider translations, in your opinion? Is it for everybody? Are there prerequisites?
You should have an idea how to market your book in Germany (and in German). As most selfpublished authors know, a book is invisible to the buyer without proper marketing. That means you need someone who can help you with marketing – or some knowledge of the German language.
What are the biggest hurdles for authors who would like to try translations (and be successful in it)?
The first hurdle is quality. It is surprisingly hard to find a good translator. The best way might be to ask colleagues who are happy with their translators. The second hurdle, then, is the marketing problem that I already mentioned.
What are your projections for the ebook market in Germany? I read it's about 5% of the total book sales right now? Is it going to grow as large as in the US?
 In general publishing it's already at ten percent, major publishers are reporting more than 10 percent of their sales in the digital market. It will grow to 25 % in 2020.
 Should authors also consider print books and/or audio books for their translated versions in Germany?
Print books – definitely, yes. It's pretty easy to create and the market is still very large. For audio books, it depends. You must reach Audible, they have 90 % market share. Actually, via ACX that's easier from the US than from Germany where ACX is not available.
In addition to the website, you are also offering a course on the same topic. Can you give a quick overview of what students can get out of this course?
 The course has two sides to it: First, I'm explaining all the special features of the German market, things like Preisbindung (prize fixation) or Titelschutz (title protection) that do no exist in the US. Second, I introduce you hands-on to all the processes that you need to follow to actually get your books into German ebook stores and to market your books here. This definitely lowers the language barrier as I am explaining all the important websites in detail.
If you'd like to check out the course "Master Publishing your eBooks and Books on the German Market" you can use this link to get the course for $29 instead of $249 (for the first 20 people who buy).
In this course, you'll learn about:
-Why to publish in Germany
-What the German market looks like – which publishers, sellers, authors
-How to find a translator
-Where to publish it in order to hit the most important German stores
-How to market your book using German ebook promotion sites
-Which laws and regulations to pay attention to
-There are screen casts showing you exactly how to navigate German websites, for example how to upload a book to a distributor.
-Matthias Matting is an expert in the field, so if there is something you are not clear about, you can always ask him directly as a student of the course.
I've personally taken two courses by Matthias, one of them on ebook marketing in Germany, a comprehensive explanation of everything you can do to market a book in Germany. I've learned a lot from this course, and I'm confident that the English course will provide equal value. So I recommend you check it out and take advantage of the huge discount he's offering to blog readers.