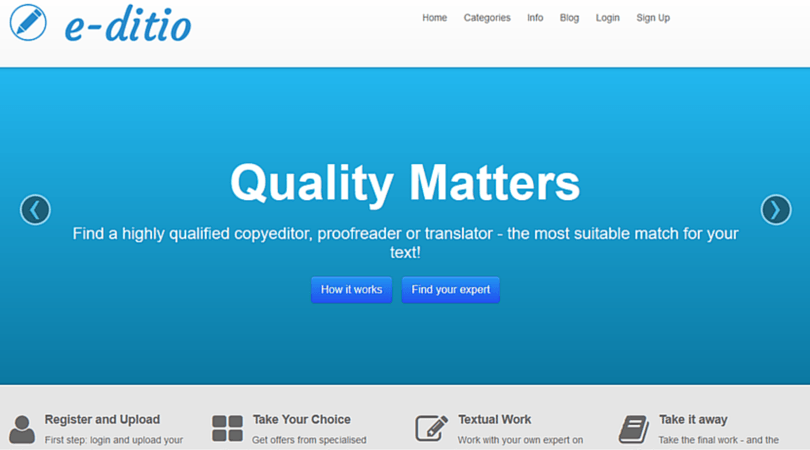 How to Find a Translator on e-ditio
e-ditio is an online platform that helps authors find qualified editors, proofreaders or translators and vice versa. In this interview, Denise Sudau, the founder of e-ditio, will tell you how to use it to find a translator for your book.
Denise, what are the unique features of e-ditio versus other online platforms where people can hire professional freelancers?
Our algorithm finds the best suitable translator, copyeditor or proofreader based on the text. And we have a huge database of highly qualified and specialized language related professionals, so that the needs of every text can always be matched.
The initial offer is free and as an author you get a short expert opinion for your promotional purposes. Furthermore you will get a trustful and professional work atmosphere where the fee will only be remitted after your acceptance.
And what will help you advertise your book: In the end you will get a certificate which shows your readers and reviewers that this text is written and edited by professionals.
Can you walk us through the steps an author would need to take to find a translator on e-ditio?
The author registers and specifies his/her project and uploads the text.
The e-ditio algorithm finds the best matching freelancer based on the text.
e-ditio will ask the best matching freelancers for an offer on basis of the text.
e-ditio will contact the author with up to three offers and with information about the expertise of the freelancers.
Author can choose the best offer and the work starts after (s)he remitted the agreed amount of money.
e-ditio pays the freelancer after the text creator is satisfied with the final document.
What are the typical costs of translation or editing on e-ditio? Does the author pay e-ditio or the freelancer?
That's an important question, Anja, but you know it depends strongly on the text. Genre, length, whether it's already copyedited or proofread or the deadline are factors that matter. So the price varies: a book of 215 pages from English to German translated might cost between 900€ and 1400€. But at e-ditio the translators choose their own price.
Basically the author pays the freelancer and a small service fee to e-ditio for covering the process.
Should authors who have their books translated involve the help of both an editor and a proofreader or is one of them enough?
 If there is any possibility to manage it: a proofreader is very, very helpful for the quality of your translated text. Keep in mind that the translator is close to the text like the author him/herself. He created a new version of the same text. So it is pretty necessary to proofread the text by a native proofreader. Involving a copyeditor is quite the perfect way to translate a book because (s)he can check and work with the translator during the translation process, increase pace and composition and avoid a difficult proofreading.
Once the book is done, can the author do with it as they please, i.e. does the copyright and other rights related to publishing stay completely with the author? Does e-ditio take any royalties from the completed works?
No, we are taking nothing from the royalties since there is no long term author contract. You can remain as the owner of your text. In case you have a German translator you will get a special passage in your contract which announces the translator as a co-creator and ensures that (s)he will get a little additional fee if your book is becoming a bestseller in the target language.
On your German site, you also offer text evaluations for writers. Could authors use this service to check the quality of a short sample translation – before they hire a translator?
They could but I think this is hard if you are not a native in the target language. On the other hand it's not necessary: translators have to prove their qualifications before they will be approved by e-ditio. And if there is any issue regarding the translated text, we are at your side and will figure it out.
Any other suggestions you have for authors looking for good translations?
If you ask your friends and family about a translation everyone knows a story or someone to recommend. But good and experienced translators are very specialized. Even the less experienced translators are specialized but they struggle to gain a foothold into the translation market, so they have to accept nearly every offer. Of course you can contact your network; however, that's very risky. You should have a personal connection to your translator because he/she will determine if your readers from another culture will like your work as an author and they should adapt your needs at the same time. But to hire a translator just because (s)he is a native in the target language is very often a bad idea and disappointing. And you will recognize this with the feedback of your readers. Nevertheless there are a couple of geniuses out there who are perfect without professional background –  but it's very hard to find them.