2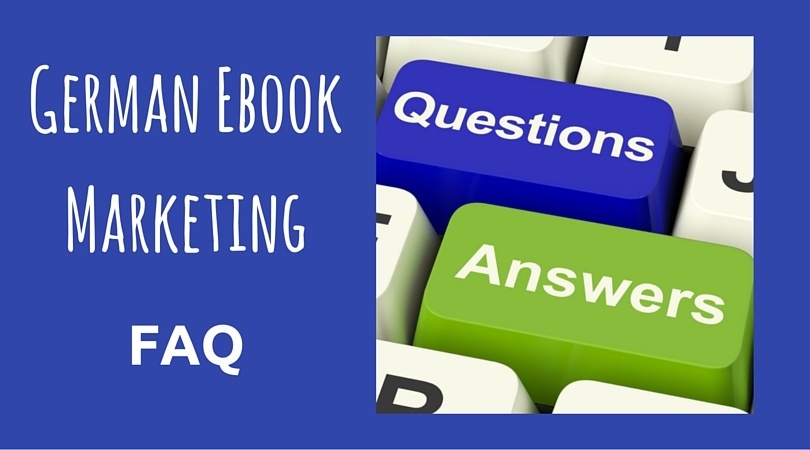 German Ebook Marketing – FAQ
I've had some American authors ask me questions about publishing and marketing books in Germany, and whether things work the same as they are used to. As the answers to some of these questions may interest and benefit others as well, I decided to post them here. Feel free to add your own questions in the comments below or by emailing me, and I'll do my best to answer them.
Do 99 cent or free promotions work on the German market? Is permafree a good marketing strategy?
In the early days of self-publishing in the US, offering ebooks for 99 cents or for free was a great marketing strategy – until the market became so flooded with cheap or free books that it was harder to stand out once more. I would say the German market has also matured to a point where offering your books for a cheap price alone cannot be your only marketing strategy. However, it is a good idea to use price discount or free promotions for limited periods in combination with ads on ebook promo sites. Several German ebook promo sites take new releases and do not require reviews, so they can be useful for a launch as well. For example, doing a 99 cent (or other reduced price) promo with an xtme ad can be an effective launch strategy. If you have multiple books in a series, promoting the first book in this manner (or alternating between books if they can stand alone) is probably the best way to go.
Permafree means setting the first book in the series for free for an indefinite period of time. This has been adopted by many English language authors as a great way to "catch" new readers. They can try out your writing for free – and if they like it, they might buy the rest of the series. This is most effective if there is a large back catalog (I would say at least 3 books in the series). Unless you are using a funnel to get early readers to your mailing list, setting the first book permafree before you have any other books in the series published might lose you readers. Permafree is only just starting to be adopted by German indie authors, so I cannot say for sure if it'll work the same as in the US, but there's no reason to expect otherwise. To go permafree, the book needs to be set free on other sales channels that allow this (e.g. Apple). On Amazon, you cannot set your book free unless you are in KDP Select. Once it is free on other platforms, Amazon will either price-match automatically, or you can drop customer service an email asking for the change.
Do Amazon.de and Tolino offer pre-orders? Do they have a Hot New Releases list?
Pre-orders on Amazon.de work the same as on Amazon.com. They can be set up 90 days in advance, but the final version must be uploaded 10 days before release or you won't be able to do pre-orders for a year. They also require a draft version of the manuscript to be uploaded (can be changed later). Tolino, on the other hand, allows asset-less pre-orders for 1 year in advance, meaning you don't need any files to set up the pre-order. (more info here)
Any pre-order sales on Amazon.de and Tolino are directly incorporated into the ranking as they happen, not at the time of publication (as on iTunes, for example). This will allow your book to get a sales rank before it is released, but the spike on the first day of sales might be less pronounced.
You can set up pre-orders for Tolino via Draft2Digital, which is something I'd recommend at this time for all English-speaking authors. Although Tolino does offer a self-publishing portal (tolino media), it's only accessible with a European bank account and if you speak German.
Amazon.de has a Hot New Releases Category and a separate category for pre-orders, which works the same as on Amazon.com. The Hot New Releases list on Amazon features new books in the first 30 days after publication (starting at the release date, not the time of pre-order set up). During this time, new books are granted more visibility. Tolino stores are all different. One of the biggest, for example — Thalia.de — has a "New Releases" and "Preorder" category as well, in which your book can appear during the launch period.
Which books sell well on the German market? What do German readers love to read?
On top of the German Amazon charts you will always find contemporary fiction, mysteries, fantasy, romance, and historical novels. For more information, have a look at the Amazon Category Cheat Sheet (see box on the right side) to find out how popular your own category is.
Is there a summer slump in sales? When is a good day to launch or promote books?
Vacation time always causes a drop in sales – this is the same in Germany as in other countries, because people are often travelling or engaged in outdoor activities. Some public holidays are also notorious for decreased sales or ineffective promos – Christmas, for example, presumably because many people visit family and have other obligations during this time. Other holidays may work better, if they are not traditional family holidays, like the 3rd of October (German Unification Day). These days are used by many to stay at home and relax – and possibly read or look for new books. Weekends are generally a good time to launch or promote a book for the same reason.
Are audiobooks popular in Germany?
The audiobook market share is about as big as the ebook market share in Germany (around 4% in 2014), but most indie authors haven't entered the audiobook market yet. Mostly because you need a US or British account to use ACX (Audiobook Creation Exchange) and there are no similar services available to Germans, yet. So if you find a German narrator on ACX and the audiobooks are also available on the German audible.de, it could give you an advantage right now.
More marketing advice and many tutorial videos in my online course on "How to market your book in Germany".