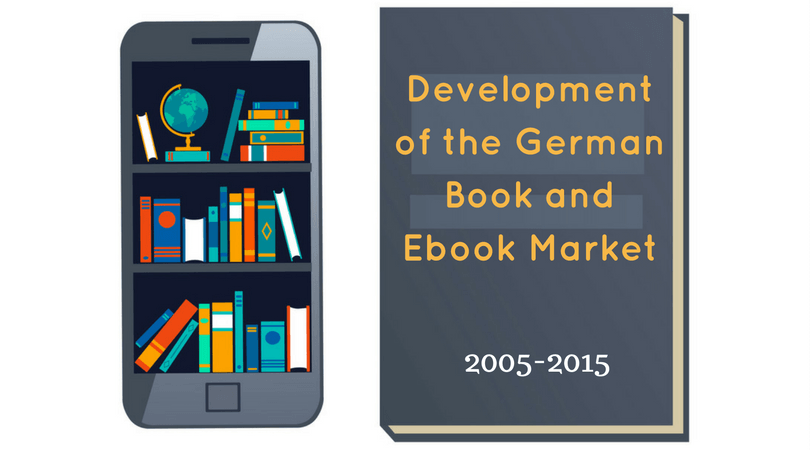 Development of the German Book and Ebook Market from 2005 to 2015
In June 2016, the German Publishers and Booksellers Association presented new numbers for the growth of the book and ebook market in Germany in 2015 and the previous years. I wanted to share some of them with you. It's all taken from their presentation, which is freely available on their website (in German).
The Physical Book Market
Revenue from book sales
In the graph below, you can see the estimated sales revenue from the entire book market in Germany from 2005-2015 along with some of the new media and technology releases during this time. It appears that book sales have remained relatively constant despite the big changes and innovations in other media. People keep reading books even with so many other distractions around.
Major sales channels
The major sales channel for physical books in 2015 was still the retail bookstore with 48% of the revenue share, followed by direct sales through publishers (20%), and only then online bookstores (17%).
Revenue from different product groups
The graph below shows the revenue from different product groups. General fiction makes up the largest share with 32%, but nonfiction and self-help books follow close behind with a combined 24%. Books in the field of diverse sciences or art and music each only generate below 5% of the sales revenue.
Number of new titles published
The number of new books published (not including those without an ISBN or ebooks) has not markedly risen over the past ten years. Around 80,000 new titles were published per year from 2005 to 2013, but in 2014 and 2015 it dropped to 73,800, and 76,500 respectively. Perhaps this shows that more authors are migrating toward independent publishing. Translations published in the German book market increased between 2005 and 2009 (from 6,000 per year to 10,500), but the numbers have since dipped again to 9,500 translations published in 2015.
---
The Ebook Market
Revenue from ebooks
The revenue from ebooks market share of the total book market has increased almost exponentially during the first three years since 2010, but since 2014 it's showing tendencies of saturation. Although that doesn't mean the ebook market won't continue to grow, growth is slower than in the US where it has already reached about 25% of the overall market share. Newer numbers show that in the first three quarters of 2016, the German ebook market increased by 1.7%.
Number of ebooks sold and prices
The number of ebooks sold is still rising, from 1.9 million ebooks in 2010 to 27 million ebooks sold in 2015, with the number of people buying ebooks rising simultaneously from 0.7 million to 3.9 million (or 5.7% of the total population). This means each customer has bought about an average of 7 ebooks in 2015. The average price per ebook has decreased from 10.71 Euro in 2010 to 6.82 Euro in 2015, and continues to decrease in 2016 to 6.60 Euro.
Revenue from different product groups
The major product category for ebooks is fiction. Fiction sales made up 86% of the revenue from ebook sales in 2015 (compared with only 32% in physical books). All other categories only reach 5% or less, including children's books (4%), and nonfiction (4%).
Age and gender of book and ebook customers
In the chart above you can compare the age and gender of book and ebook customers from 2011 to 2015. Young people from ages 10 to 19 hardly buy books or ebooks, probably for cash reasons. On the other hand, more people above the age of 60 are buying ebooks every year. I also found it interesting to see that the percentage of women buying ebooks has grown significantly, up to 63% in 2015.
About 64% of ebook customers buy ebooks as well as print books, while 36% buy only ebooks. The e-reader is the preferred means of reading ebooks for 42% of ebook buyers, followed close up by tablets (27%), smartphones (16%), and PC/Laptop (13%). Women and older readers (50 and up) in particular seem to prefer e-readers as their device, while younger people are more likely to use a smartphone.