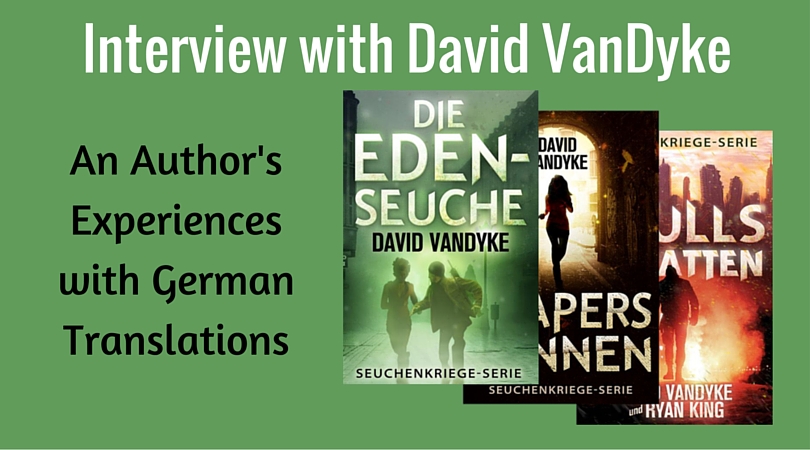 David VanDyke's Experiences with German Translations
David VanDyke is a successful US-American author of Military SciFi and Postapocalyptic Thrillers who has decided to have his bestselling "Plague Wars" Series translated to German. He started publishing the first three books of the series in October 2015 (here's an account of the launch), and since then has added two more books to that with a third one on pre-order right now. I've had the pleasure of working with Dave for the past few months as his assistant and proofreader, and now I've asked him for an interview to share his experiences with German translations with other authors who may be interested in translating their work. He's really taken the time to answer my questions in detail and I'm sure you'll find it helpful:
Why did you decide to have your novels translated in general, and to German in particular (compared to any other language)?
I was doing well and wanted to reinvest my earnings into my self-publishing venture. For example, I was already reinvesting by having my books produced as audiobooks. Getting my books translated seemed a natural expansion of that principle: create a new format for existing content and sell it to a new market.
I chose German both because I believe it's the second-largest market after English for science fiction (my main genre), so I'd get maximum bang for my buck. Also, most sales come from ebooks, and German speakers are generally highly literate and tech-savvy, and so the numbers say they are adopting ebook reading quite quickly.
I also can get by in German, though I don't claim fluency, so I am able to do some basic quality control and look over the manuscripts. This turned out to be quite important, actually, as I was able to recognize some things that needed changing in my very first German translation, and address the issues.
How did you find your translator and what were the most important attributes you were looking for?
I found my translator by word of mouth from KBoards, from another translator who was fully booked (pun intended). I'd recommend this method, as one translator is likely to know whether another one is competent, and a good fit. In this case, my translator is Frank Dietz,  http://www.frankdietz.com/  a professional who has done a lot of translation of military, technical, and science fiction books. It was important that he is comfortable with military and scientific jargon, as literal translations don't always convey the proper meaning in a military-science-fiction context.
How do you make sure the translations are of good quality?
I have you to thank for that, Anja! Anja is my German-language editor/proofreader and virtual assistant, and she does a great job.
For those reading, it's critical to find and pay a competent native-speaking proofreader. Just like you wouldn't (I hope) publish an English manuscript without it being proofread, you shouldn't do it in another language, no matter how good the translator is.
How and where do you publish the translated books?
I tried going wide through Draft2Digital. The first month I published 3 books at once, and sold only 1 copy outside of Amazon, but a lot more on Amazon. Now, I'm exclusively self-publishing my German editions though Amazon Select. Users of Amazon.de (de for Deutsch, the German word for German) do have Kindle Unlimited, so between Amazon's reach and the extra income from KU, I'm optimistic about staying Amazon-exclusive to take advantage of their promotion tools and KU.
What are the biggest differences between the German and American self-publishing/ebook market that you have noticed?
The ebook market is smaller, and the promotions are less effective for the same or more money. My direct ROI from a promotion on one of the German promo sites is much lower (by the way, I'd recommend free over 99c for first-in-series promos). I seem to be selling about 1/6 as many copies per book in German, but I'm making a little more than 1/6 as I've priced the German books a bit higher than in the English markets, both to compensate for the 20% VAT and because Germans seem to be accepting of these prices – and they're still a bargain, much lower than many of their traditionally published books in the same genre.
What has been the biggest challenge for you?
Overcoming my fear that this investment won't pay off. Things started slow and my investment is nearing $30,000 plus some royalty splits with my translator, with just over $1000 earned so far. It's hard to keep paying out money on such a speculative investment. I'm betting that the German market grows and that my early entry will pay off in the long run, and I'm doing everything I can to "put myself in a position to get lucky."
What do you do to market your translated books?
The same things I do with my English books: discounted and free promotions, give out free review copies and try to get some review sites and bloggers to review.
Are you satisfied with the results so far?
Moderately satisfied and hopeful, I'd say. At the current rate of sales, I should earn back my investment in 5-10 years, which isn't bad, but considering the uncertainty factor, it's still a big risk. Something completely unforeseen could happen and change the ebook playing field again.
What are your future plans for translations? Are you going to continue with this series and/or your others? Do you consider trying other languages as well, like Spanish?
I don't really have anything as firm as plans. If the German situation would surprise me by taking off faster and paying back my investment, I'd consider another language, but I'd have to do some research to decide which might be best. Chinese seems like the natural choice, but it seems to me the Chinese might be culturally more sensitive than Germans when reading what are rather American-centric books. I've tried to include characters of other nationalities in my books, but the story begins in the US and only in later books does it include a truly international setting. But, almost none of the on-screen action takes place in China, nor does it directly relate to China. On the other hand, unlike in some other apocalyptic or sci-fi series, China is not the "bad guy."
Any other comments or suggestions for authors who are considering German translations of their books?
If you try it on the cheap, expect poor results. I've read some horror stories about people who found unqualified translators that made complete messes of their books. First, get a native speaker, 100% fluent in the target language. Second, that native speaker must be also 99% fluent in written English. He or she must be literate and educated in their native language. They must be a competent writer in their native language. So get references. They should have certifications, or at least they should be able to point at successful work and satisfied customers. They should have no problem with contacting others who have worked with them.
Find a helper in the target language. Anja, you've been invaluable to me both as my virtual assistant ( to do things like schedule promotions and get reviews in blogs) and as my proofreader (to ensure the German text is both error-free and colloquial).
Lastly, don't expect overnight success. Just because you sell well in English doesn't mean you'll immediately sell well in the target market. Translation should be a business decision, not ego-driven.