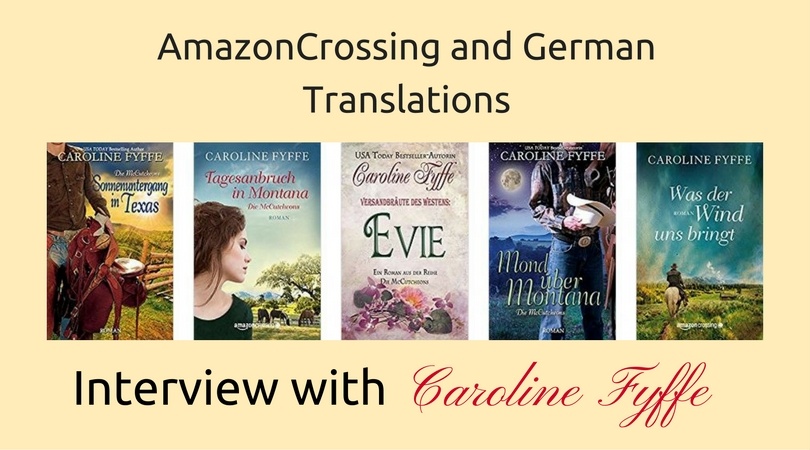 Caroline Fyffe on AmazonCrossing and German Translations
Caroline Fyffe is the USA Today bestselling author of Sweet Western Historical Romance, such as the McCutcheon Family series. Her novel "Where the Wind Blows" won the Golden Heart Award of the Romance Writers of America. To date, five of her books have already been translated into German, two of which are published by AmazonCrossing. I was curious about her experiences with German translations and AmazonCrossing, and Caroline was so kind to agree to this interview:
Caroline, which of your books has been translated first and how did it all come about?
My first western historical romance translated was Where the Wind Blows / Was der Wind uns bringt. Being that I am an Amazon author, publishing with Montlake, they were the ones to bring Was der Wind uns bringt into translation with Amazon Crossing. I really had nothing to do with the process except to be very happy when I was informed they had decided to do so.
At about the same time, I offered my KDP published western historical romance Montana Dawn/Tagesanbruch in Montana to Amazon Crossing. My thought was if I went on to publish the rest of the McCutcheon Family series myself, having the strong arm of Amazon Crossing behind Book One would be a very good thing. I was thrilled when they accepted.
In working with AmazonCrossing, which steps of the process did they take care of, and where did you have input? (e.g. translation, cover design, pricing, etc.)
Amazon Crossing  took care of all the aspects of the title being published for the German speaking markets. I was consulted with the covers, and Amazon Crossing was very diligent in making sure I was 100% happy with the finished products. And I am. They do an amazing job.
How long did it take from agreeing to work with them to the publication of the book?
I don't remember the exact timeline, but I believe it was close to the same as bringing a book through publication here which is almost a year.
How does AmazonCrossing market your books and do you have any input in that?
I have no input with the marketing of my Amazon Crossing titles, but am very pleased with the promotions they run quite often. When one book goes on sale and the sales increase, the other books follow.
You started working with individual translators for the other two books. How did you find those translators and what is the biggest difference of this approach compared to working with AmazonCrossing for you?
I've gone on to translate three more titles of the McCutcheon Family series, with two more in the pipeline. I found my translators from friends of mine who had good experiences with their translators. Working outside of Amazon Crossing, my responsibilities are contracting for a quality cover and promotion after the books launch.
What has been your experience with the German market and German readers so far? Any difference to the US? I sometime hear it said that Western Romance novels are hardly read outside the US, but they appear to be pretty popular in Germany as well. Is that your impression, too (taking into account the smaller market size)?
Actually, I've been delighted with my German sales. True, the western historical romance market is much smaller than contemporary romance, but right from the get go my books sold well and continue to do so. I believe the more books you have translated the more popular you become as an author in the German market. Back in 1999 and 2002 I had the wonderful opportunity as an equine photographer to photograph two major championship horseshows in Germany. What I learned is the German horse industry loves the western classes. Western pleasure, as well as all the working cow horse classes, cutting, and trail are very popular. Horse shows and novels are two different things, but they both have a common thread of interest—Cowboys, horses, and the like.
Are you going to have the rest of your novels translated any time soon? What about German audiobooks ;)?
I plan to keep translating my titles, but it takes time and money. It's not an inexpensive endeavor. One or two titles a year…
I know very little about the German audiobook market. I'd love to get some data on that. My English audio books sell very well and I'll pursue German audiobooks if the market is there.
What advice would you give a fellow author (especially in your genre) if they are interested in translating their work to German? Should they?
As long as they have the extra funds for translation, it doesn't hurt to try. If their book is selling well in the US market, it may be a hit in Germany. I wouldn't though, jump in a pay for more than one until I tested the waters. What I like to keep in mind is it's a whole new market and I don't even have to write another book to reach it. And the German market is expanding daily. In my book, that's a win win opportunity.
Thank you so much!
Thank you, Anja, for the opportunity to talk about one of my favorite things. I do appreciate it!