26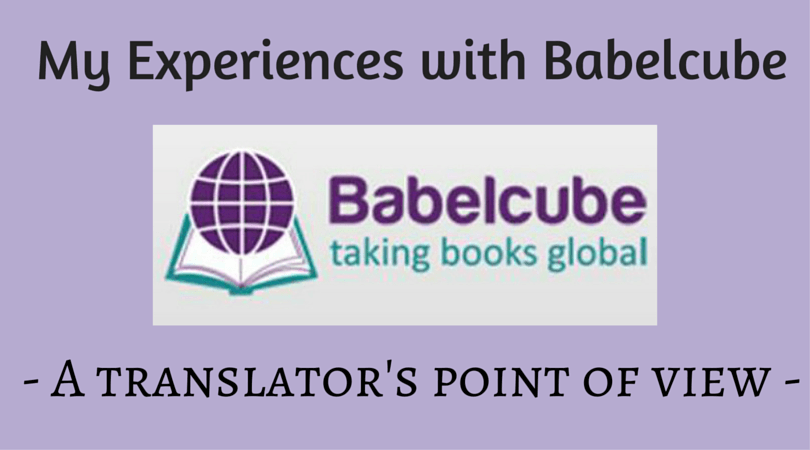 My experiences with Babelcube and children's book translations – A translator's point of view
Now that I've been working as a translator on Babelcube for a good five months and have finished translating 3 books, I think it's time for a first to give evaluation of my experiences, which I hope will be interesting to other authors and translators.
You can find my three translations of Middle Grade novels here. They were written by a team of authors, Karen and Bill Campbell, and Katrina Kahler, and belong to two separate series. I will call them the Almost Cool series and the Julia Jones series.
Why I chose Middle Grade Novels

Initially, I simply wanted to try out Babelcube with a shorter piece of fiction. Middle Grade novels are always fun, action-packed adventures, and they are shorter than adult novels (in this case, about 10-20k words each, which seemed like a manageable amount). I also liked the covers of the books. I think they are very well-branded and clearly targeted to girls aged 8-12. I had a blast (still have) translating them.
Once I was done with the first book, the authors asked me if I'd like to translate the other books in their series as well. As many indie authors know, series are the way to go. Having more books on the shelf means more visibility and therefore sales. The first book of the Almost Cool series had already been translated into German by a friend of the authors and I could see it was doing pretty well on Amazon, so thought it would be a good lead-in for the second book Almost Cool Girl 2 and the spin-off Diary of Mr. TDH. The Julia Jones series was selling very well on the English Amazon stores, which showed me it had potential.
How it worked

I used the search function on Babelcube to browse through the books that authors had offered for translation in different genres. (Authors can also search for translators themselves.) After my initial offer to translate the book was accepted by the authors, I signed the digital contract and downloaded the original manuscript and back matter (book description, author bio) as Word documents. I decided how many days I would need to finish the first 10 pages and the whole manuscript. (These deadlines can be extended with the approval of the author at any time.)
One little tip for new translators: If you would like to work with another translator as your proofreader on a book project (which I highly recommend), ask them to form a team before you make the offer to translate the book. I decided a bit too late that I wanted to work with a proofreader on Babelcube and then had to contact customer service to manually add my proofreader to the project. It's no big deal, just a hassle for all parties involved, as they each have to sign the contract again.
After the final manuscript was accepted by the authors, I got a message from Babelcube each time the book was uploaded to a new sales channel.
Using the Babelcube Website – 5/5 stars
The dashboard is well-organized and allows quick access to all the important features such as my profile, messages, teams, book publication status and sales, etc. Uploading and downloading of materials is easy.
The search function has been improved recently. You can now enter a keyword that allows you to narrow down your preferred genre or topic AND cover images show up in the list of search results, making it much easier to scan.
Collaboration with authors and other translators – 5/5 stars
As a translator, I can search for other translators in my language and ask them to form a team with me. So far, I have had only good experiences with other translators on Babelcube. I have worked together with three of them either as my proofreader or being their proofreader, and some very fruitful collaborations have sprung from this. Communication with the authors is also easy, but only possible in Babelcube's own system.
Publishing process

I don't have direct access to the publishing process – this is the author's task, but I did notice that it took two weeks or more for the book to appear on Amazon. I don't know if this is Babelcube's fault or Amazon's. Just don't be in a hurry.
Babelcube published my German translations on the following platforms:
Amazon (all stores)
Tolino
Apple
Kobo
Barnes & Noble
Scribd
Page Foundry
3M
Baker and Taylor
Follet
Overdrive
Gardners
Chegg
Google Play (not listed for all of my books)
Some of these sellers, I have never even heard of before. They are probably not very useful to sell books in Germany, but I suppose it can't hurt either to have them in these stores.
Babelcube started publishing on Tolino in April. The Tolino Alliance makes up a good 50% of the ebook market in Germany (more than Amazon!). They only recently launched their new platform for selfpublishers.
Babelcube seems be using the distribution service Draft2Digital to distribute their books to some of these sales channels (I have seen Draft2Digital listed as the seller in iTunes).
Pricing
The pricing has been confusing at best so far. In the following table, I listed the prices of my translations in the most important stores in Euro and Dollar, if I could find them. (There are question marks for Diary of Mr. TDH in Apple are because I have downloaded the book in iTunes already and now cannot see the price anymore… but I assume that it would be 1.49 € like for Almost Cool Girl 2).
| | | | | |
| --- | --- | --- | --- | --- |
| | Amazon | Tolino stores | Apple | Kobo |
| Diary of Mr. TDH | 1.05 € ($0.99) | 1.25 € | ?? ($1.99) | 1.25 € |
| Almost Cool Girl 2 | 1.25 € ($1.99) | 1.25 € | 1.49 € ($1.99) | 1.25 € |
| Julia Jones 1 | 0.65 € ($0.99) | 0.99 € | 0.99 € ($0.99) | 0.99 € |
The problem I see here is the violation of the fixed book price law, according to which a book has to be priced the same on all vendors (I know, I know, Germans and their laws). They obviously are not, and Amazon seems to be the most erratic. I suspect that the complicated VAT regulations might have something to do with this, as well as currency exchange rates (the authors told me that the price they entered would be in dollars, so the Euro price would change according to the conversion rate). I hope Babelcube will pay attention to this and try to fix it, because, worst-case scenario, the books might be taken down from all the sales channels. It would also make much more sense to me to adjust the dollar amount so that the price in Euro will be 1.99 or 0.99, instead of something odd like 1.25. But, again, I don't have  direct access to that part of the process as the translator.
Amazon Categories
The books have so far shown up in the Amazon categories "Children's ebooks" and "Comics and Mangas". These are rather broad categories, so the sales rank needs to be low (or sales high) in order to make the Top 100 of the respective category. It would be good if the books could be sorted into smaller subcategories like the Almost Cool Girl 1, which is currently at the top of three subcategories of Children's ebooks. I don't know to what extend the authors or Babelcube have control over this, but category and keyword selection in Amazon are definitely important for visibility.
Promotions – 3.5/5 stars
Promotions can be scheduled by the author once a month for each book (notify Babelcube 14 days in advance). You can make it available for free for several days. However, it is not always predictable where the promo actually goes live on the specified day(s). According to my authors' experiences, Apple is the fastest to respond, Kobo works as well, while Amazon might take a day or two, which can make scheduled promotions difficult.
Of course, even with the free promo going on, you still have to let potential readers know that the deal exists. You can do this, for example, by using one of the ebook promotion websites I listed here (more on my own efforts of promotion in a later post).
Sales
Sales are slowly starting to pick up (the first book was published end of January, the second end of February, the third in March, so it hasn't been too long, yet). The books of the Almost Cool series, Diary of Mr. TDH and Almost Cool Girl 2, are mostly sold on Amazon. The first book of this series, Almost Cool Girl 1, probably drives most of these sales because there are links to both of the other books in the back matter. I definitely see more sell-through to book 2 of the series (Almost Cool Girl 2) compared to the spin-off (Diary of Mr. TDH), which might also be related to the main character being a boy instead of a girl, as the series is pretty clearly targeted to young girls.
Julia Jones 1 has picked up speed more quickly. I was surprised to see that there were actually more sales on Tolino than on Amazon in April. In May, I even saw some sales on the French and Italian Amazon stores. I'm looking forward to see what is going to happen with this series as more books are being released.
Just like with publishing anything in your own language, breaking into a whole new market is tough and will take a while.
Series are a well-proven tactic for successful indie authors, so I would advise translators to do the same and search out series that they can translate.
Conclusion
Is Babelcube a good choice for translators? – 3/5 stars
In Babelcube, translators and authors share the royalties of the translated books. But since translators are not paid anything in advance, they have to rely on the book sales alone. You can see how the royalties are divided here:
http://www.babelcube.com/faq/revenue-share
It does seem fair that the author gets the major share of his/her book in the end. However, I don't know if it can be a truly viable model for translators. Let's say the book does sell enough copies to reach the $8000 net revenue threshold. If my calculations are correct, the translator(s) could potentially earn $2900 from it (less, if one is sharing with a proofreader). Compared to the usual fees for a professional translation (of a full-length novel), this is a trickle and does not pay the bills, especially because it might happen over an extended period of time. And there is no guarantee that it will sell so much at all. So, for translators, who actually plan to live off their translations it's going to be a hard model.
For translators, who are new to the business and would like to build their portfolio, I'd say Babelcube is a good place to start. But if you want to make a living on it, you would have to translate lots and lots of books very quickly, choose those books wisely, and be aware that you will have to learn some marketing skills along the way.
Is Babelcube a good choice for authors? 4/5
I only have an outsider's point of view on that, but I think it is a good choice for indie authors, who would like to dip their toes in translations without a huge investment. The translators are probably very invested in the success and quality of your book (if I may speak for myself). Babelcube takes the issue of money transfers, etc., out of your hand,  in exchange for some loss of control over publishing and promotion decisions, and of course, a cut of the royalties.